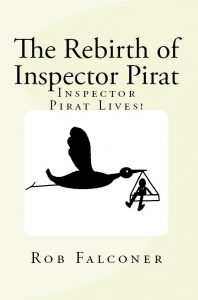 Rob's fourth Inspector Pirat book is available on Amazon for £6.99 (paperback) and £1.99 (kindle)
Paperback :
https://www.amazon.co.uk/dp/1974281523
Kindle :-
https://www.amazon.co.uk/dp/B0765CJRN3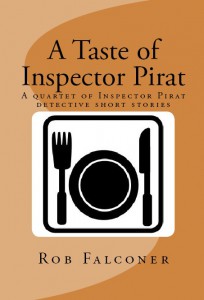 "A Taste of Inspector Pirat" is a free sampler.
It contains three stories that have been previously published, and one not yet published. So, if you bought the other books, there's still one story you haven't read … and it's free!
It's available on Smashwords for download only, but to a number of different formats including Kindle and PDF.
Kindle / PDF, et cetera :
https://www.smashwords.com/books/view/734198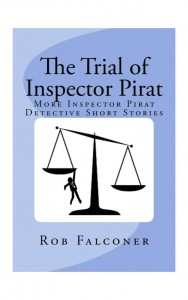 Rob's third Inspector Pirat book is available on Amazon for £6.99 (paperback) and £1.99 (kindle)
Paperback :
https://www.amazon.co.uk/dp/1540693996
Kindle :
https://www.amazon.co.uk/dp/B06X6JLXMQ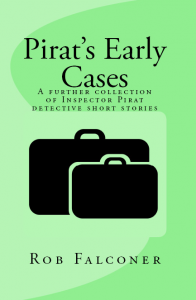 Rob's second book is available on Amazon for £6.99 (paperback) and £1.99 (kindle)
Paperback :
https://www.amazon.co.uk/Pirats-Early-Cases-Rob-Falconer/dp/1530449219?ie=UTF8&keywords=ROB-FALCONER&qid=1460575778&ref_=sr_1_3&sr=8-3
Kindle :
http://www.amazon.co.uk/Pirats-Early-Cases-Rob-Falconer-ebook/dp/B01E7RP15A/ref=sr_1_2?ie=UTF8&qid=1460619253&sr=8-2&keywords=ROB-FALCONER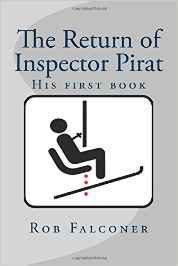 Rob's first book is available on Amazon for £6.99 (paperback) and £1.99 (kindle)
Paperback :
http://www.amazon.co.uk/The-Return-Inspector-Pirat-First/dp/1511429461/ref=tmm_pap_title_0?ie=UTF8&qid=1426604542&sr=8-1
Kindle :
http://www.amazon.co.uk/Return-Inspector-Pirat-First-Book-ebook/dp/B00UTKEKPM/ref=sr_1_1?ie=UTF8&qid=1426604542&sr=8-1&keywords=rob-falconer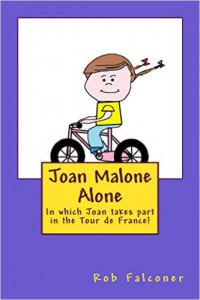 Rob's first book for children is available on Amazon for £4.80 (paperback) and £1.99 (kindle)
Paperback :
https://www.amazon.co.uk/Joan-Malone-Alone-which-France/dp/1532972571/ref=sr_1_4?ie=UTF8&qid=1467381628&sr=8-4&keywords=ROB-FALCONER
Kindle :
https://www.amazon.co.uk/Joan-Malone-Alone-Rob-Falconer-ebook/dp/B01HSDJO30/ref=sr_1_2?ie=UTF8&qid=1467381628&sr=8-2&keywords=ROB-FALCONER