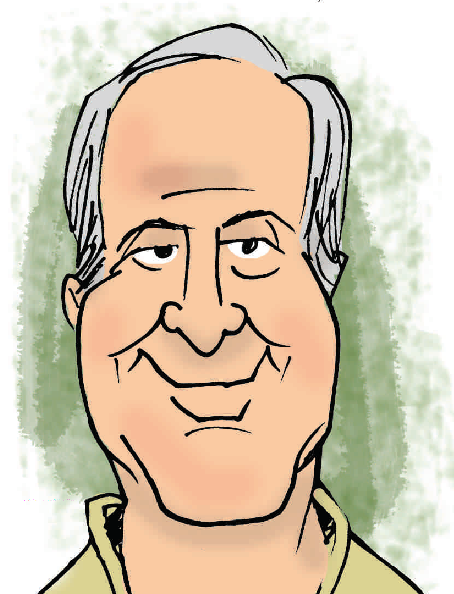 Rob Falconer was born in Cardiff, the capital of Wales, far too long ago for him to remember the actual date.  At present, he is still alive, but he checks the Times obituary every morning to make sure.  Having gained a degree in psychology from Cardiff University, he passed his first interview with flying colours, and joined the family coach business "for a while" (actually nine years).  A history of the company can be found elsewhere on this site.
He later became a computer programmer, before he and his job parted company in 2001.  He has since written a number of short stories, and won competitions with The Times, International Mensa (he is a member) and the South Wales Echo.  He has had a number of children's poems published in various anthologies :
'Puzzling Poems to Drive You Crazy' (Oxford University Press, edited by Susie Gibbs)
'How to Survive School' (MacMillan, edited by David Harmer)
'Read Me Out Loud!' (Pan MacMillan, edited by Gaby Morgan)
He has also written for comedy shows on both BBC and ITV.
His first book, 'The Return of Inspector Pirat: His First Book' (yes, I know, but you'll understand when you've read the book), came about because he often couldn't sleep, and amused himself by thinking up puzzles, which he then put into print.  So, blame insomnia.  Many of the stories are based around locations he has visited, such as a gîte in the Loire, on which 'Truck Stop' is based (he has difficulty in sleeping abroad too).
His second book, 'Pirat's Early Cases' was published in paperback and Kindle versions in late April 2016.
And a third Inspector Pirat book, 'The Trial of Inspector Pirat,' was published in February 2017, followed by a fourth, 'The Rebirth of Inspector Pirat,' in October 2017, a fifth, 'Inspector Pirat's Pick and Mix,' in September 2018, a sixth, 'The Scrapbook of Inspector Pirat,' in June 2019, a seventh, 'Inspector Pirat's Seventh Heaven,' in May 2020, and an eighth, 'Inspector Pirat's Pieces of Eight,' in January 2021.
His latest collection of detective short stories, his ninth, imaginatively titled 'Inspector Pirat's Ninth,' was published in October 2021.
Because of interest in the history of Llanishen village and of Falconer and Watts, 'Memoirs of a Coach-Operating Man' was published in February 2018.  It includes Rob's memories of growing up in the village and the history of the company, together with some anecdotes of the highs and lows of running a small semi-rural coach operation.
'A Brief History of Time Travel,' a (fictional) collection of short stories about the pioneers in the development of time travel, was published in January 2019.
And a free book, 'How to Retire Ungracefully,' was published on Smashwords in April 2019.
'A Little Bit of Immortality,' about one man's hapless attempts to secure a place in history alongside the likes of Brunel, Constable, Dickens and Shakespeare, was published in February 2021.
His interests include pétanque, the cinema (but not necessarily modern cinema), crosswords and problem-solving, history, and reading detective fiction.  His favourite detective author is Edmund Crispin, some of whose puzzles are truly ingenious, but laced with plenty of (often literary) humour.
He lives in Penarth, South Wales.
(The caricature is by Joe Heller)